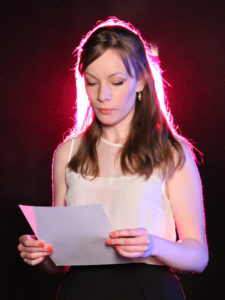 Lucile Haute is an artist, PhD in fine arts, lecturer in design at Université de Nîmes and associate researcher at EnsadLab. She studies graphic, editorial and interactive design, the artist's book and art edition (print, hybrid or digital), forms of publication of research in art and design, the new ways of publishing, the design of scientific editions (periodicals, books) and hybrid forms of fiction (text read and to read, etc). Lucile studied the habitability of the contemporary world by embodying a particular cyborg figure, with performances at the edge of tangible and digital spaces. She uses actual tools and techniques: from the more traditional ones (drawing, design object, wood, photography) to more modern ones (digital technologies, virtual realy, apps). She directs the collection liteʁal from Art Book Magazine (Paris) which presents digital books and well as printed ones, in French or in English, dedicated to modern art, design and research in those areas. Each essay or text of this collection is subjected to graphic experimentations as well as typographic, interactive, plastic and aesthetical ones. As she explores the book's response to livre to the digital era, her approach is a research by and through design. Lucile is a permanent member of EA 7447 – PROJEKT, from Université de Nîmes, and associate member of EA 7410 – SACRe (Sciences, Arts, Création, Recherche), from Paris Sciences et Lettres Research University. Her work can be found on her website lucilehaute.fr. She is a founding member of the collective Hyperfictions.org.
Publications (selection)
Management of issued reviews with reading committee:
• Renée Bourassa, Lucile Haute, Gilles Rouffineau (dir.) Revue Sciences du Design #08 : Éditions numériques, Paris, Puf, 2018:
http://sciences-du-design.org/
Articles in peer-reviewed journals:
• Lucile Haute and Julie Blanc, "Publier la recherche en design : (hors-)normes, (contre-)formats, (anti-)standards", in the journal Réel Virtuel n°6 : Les normes du numérique, 2018:
http://reel-virtuel.com/
• Lucile Haute, "Recherche-création dans les écoles d'art et institutions françaises", in Archée : Re-Create, la recherche-création en acte, directed by Cécile Martin, July 2016:
http://archee.qc.ca/ar.php?page=article&no=518
Book chapters:
• Lucile Haute, "Chapitre V – Design des catalogues d'exposition sur supports numériques. Études de cas." and "Chapitre VII – Portfolio : Conception graphique de catalogues d'expositions numérique." in Alexandra Saemmer and Nolwenn Tréhondart (dir.), Livres d'art numériques : de la conception à la réception, Paris, Hermann, June 2017, pp.109-123 and pp. 139-149.
• Nolwenn Tréhondart and Lucile Haute, interview with Tomas Bijon "Chapitre IV – Le livre s'anime, devient vivant, réagit quand on le caresse…" in Alexandra Saemmer and Nolwenn Tréhondart (dir.), Livres d'art numériques : de la conception à la réception, Paris, Hermann, June 2017, pp.97-105:
http://www.editions-hermann.fr/5125-livres-dart-numeriques-de-la-conception-a-la-reception.html
• Lucile Haute, "L'hyperfiction Conduit d'aération : entre littérature et design, construction d'un roman augmenté pour tablettes et liseuses", in Les écrans tactiles mobiles, Anaïs Guillet (dir.), Paris, Ed. publie.net, 2015:
https://www.publie.net/2015/12/31/nouveaute-lectures-digitales-lecran-au-bout-des-doigts/
Article in journals without review committee:
• Lucile Haute and Julie Blanc "Standards du web et publication académique" in CodeX n°1, Paris, editor HYX, 2017, pp. 14-15:
http://www.editions-hyx.com/fr/code-x
Others:
Director of the collection liteʁal by Art Book Magazine (Paris).
• From Bits to Paper, Filipe Pais (dir.), collective, printed by 24x32cm + ePub, 196 pages, 2018, language: English.
• La création à l'œuvre, autour d'une exposition de l'artiste et typographe Pierre di Sciullo, Francesca Cozzolino (dir.), collective, ePub, language: French.