PhD presented by Emile De Visscher
Directed by Samuel Bianchini and Roger Malina
Co-supervised by Patrick Renaud
November 26, 2018 at 4:30pm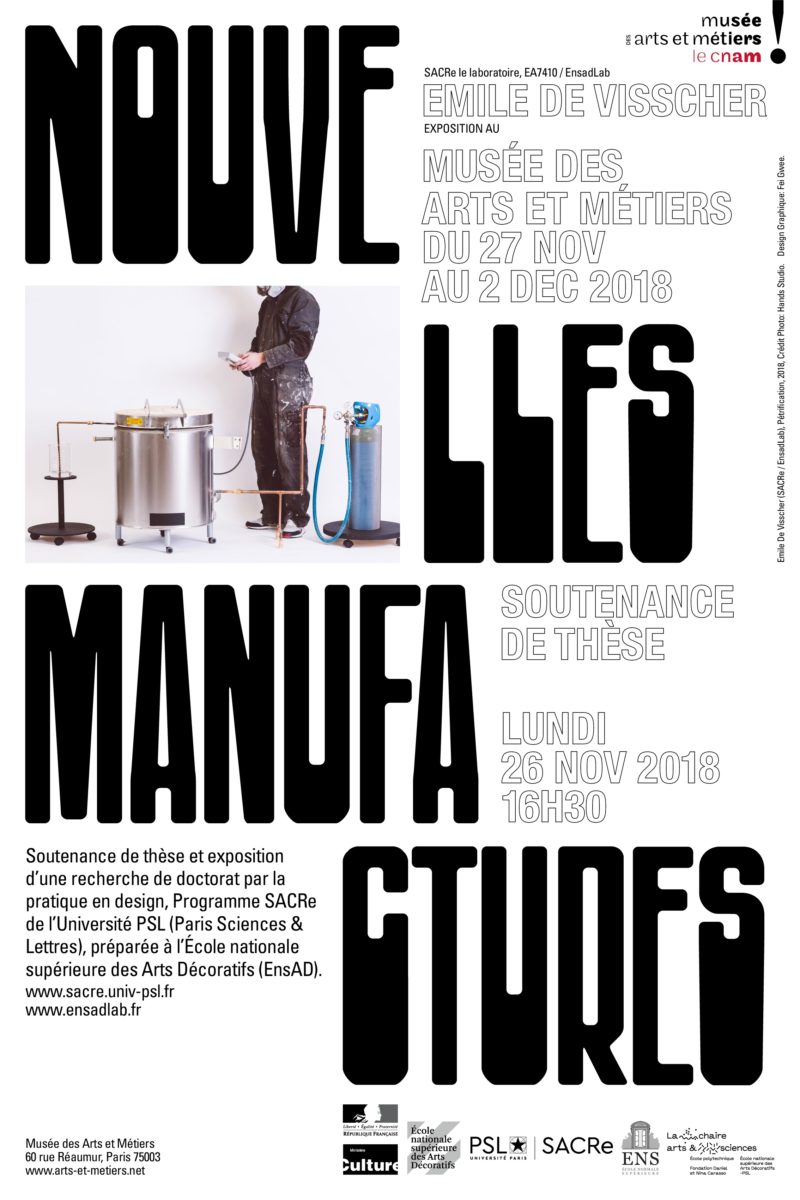 Technophanic Manufactures: A research through design, exploring manufacturing processes' technical, aesthetic and symbolic regimes, stimulating collective understanding and participation.
Jury
• Ms Hughes, Lynn, Emeritus Professor, Concordia University, Rapporteur.
• Ms Houdart, Sophie, Director of research, CNRS, Rapporteur.
• M. Bianchini, Samuel, Associate Professor (HDR: with an Habilitation to be a Director of Research), EnsAD, PhD director.
• Ms Lechot Hirt, Lysianne, Teacher, HEAD Genève, Member of the jury.
• M. Malina, Roger, Emeritus Professor, University of Texas, PhD co-director.
• M. Quinz, Emanuele, Associate Professor, Université Paris 8, Member of the jury.
• M. Renaud, Patrick, Teacher, EnsAD, PhD co-supervisor.
• M. Winkin, Yves, University Professor, Cnam, Member of the jury.
Technophanic Manufactures is a research and creation PhD in art and design, following a double approach: empirical — by means of experiments and artefacts — and reflexive — by means of a thesis. The defense will articulate a presentation of the research and an exhibition called "Nouvelles Manufactures" followed by a discussion with the jury.
Profil
Emile De Visscher is an engineer, designer and design researcher. He graduated from Université de Technologie de Compiègne (FR, 2009) and Royal College of Art (UK, 2012). He has been awarded several prizes for his work, which has been shown at more than 30 international exhibitions. He has also founded and led an independent design publication, Obliquite, aiming at documenting the discourses and explorations of design's young generation. Since 2014, he is conducting a PSL/SACRe PhD, at EnsadLab, EnsAD's research laboratory.
www.ensadlab.fr/fr/emile-de-visscher-2/
www.edevisscher.com
Abstract
The environmental crisis demands a closer look at the origin of things. Today, we barely know the provenance of the objects we buy and use on a daily basis, nor how they are made and how much energy they require. We don't have access to their "ecologies." This lack of knowledge keeps the environmental issues at stake out of reach, it "de-responsibilisates" us. Recent design movements have developed a more open, small-scale and accessible vision of production processes. They seek to democratize, share and educate society, offering global understanding and greater participation in the making of things. Though crucial, these movements are limited by the fact that they only develop and present these new inventions as an alternative means. The thesis claims that the socialization of production provides a unique occasion to rethink our relationship to technologies and artefacts through narratives. This practice-based design research explores the conditions through which new manufacturing processes fully take into account the symbolic and aesthetic aspects that allow people to endorse the problems at stake, not only through use and efficiency, but also through sensation, imagination and wonder. This cultural approach to technologies has been named "Technophany" by Gilbert Simondon, in direct reference to Mircea Eliade's "Hierophany," which described the equally symbolic and efficiently driven relationship to tools and processes that many non-Western people have developed and kept alive. These "technophanic manufactures" seek to "make us love technicality again", to become public things, "res publica" – able to enrol communities around the awareness of its uses and impacts. To do so, a design approach is necessary, in order to include technical, symbolic, aesthetic, scientific, political, commercial and practical ways of thinking. It seeks to translate hidden realities into accessible and participative experiences.
SACRe doctoral program (Sciences, Arts, Création, Recherche)
Leading program of Paris Sciences et Lettres University (PSL), SACRe gathers Paris' five major arts schools and École Normale Supérieure. To explore research creation's common grounds, allow creators and researchers to collaborate and invent together: that's where lies the ambition. Interdisciplinary, it puts together artists, choreographers, composers, designers and film-makers, but also natural and social sciences' theoreticians, in order to interwind the theory and the sensible. The SACRe PhD consists of the creation of a series of works as well as a theory grounded written proposal. SACRe gathers more than a hundred researchers of which 50 PhD students. This makes SACRe a unique research program in Europe.
SACRe directors: Emmanuel Mahé & Jean-Loup Rivière
Information: direction.sacre@univ-psl.fr / www.sacre.univ-psl.fr
With the support of:
• EnsadLab, École nationale supérieure des Arts Décoratifs's Laboratory;
• The Chaire "arts & sciences" of École Polytechnique, of École nationale supérieure des Arts Décoratifs – PSL, and the Daniel & Nina Carasso Foundation;
• The Arts et Métiers museum.
Information:
• Musée des Arts et Métiers, 60 rue Réaumur, 75003 Paris : www.arts-et-metiers.net
• Defense on Manday November 26, at 4:30 pm
• Booking necessary: evenement.recherche@ensad.fr
• The exhibition "Nouvelles Manufactures" will stay open from November 27th to December 2nd 2018. Tuesday to Sunday from 10:00 am to 6:00 pm. Late opening Thursday till 9:30 pm